How to add your web site to the Google Search Console.
One of the most important step in optimizing your WordPress site for SEO is adding it to Google Search Console (formerly Google Webmaster Tools).
Google Search Console offers specific webmaster tools to help website owners monitor and maintain their search presence and rankings.
In this guide, we will show you how to easily add and verify your WordPress site in Google Search Console also known as Webmaster Tools.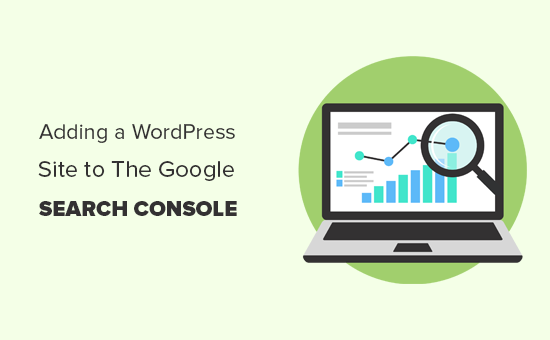 What is Google Search Console?
Google Search Console is a free tool offered by Google to help website owners monitor their website's presence in Google search results.
It helps you track search rankings along with keeping you updated about site errors, security issues, and indexing issues that may affect your website's search performance.
If you are serious about growing your website, then you need to add it to Google webmaster tools from day one.
That being, let's take a look at how to easily add your site to Google Search Console.
Adding Your WordPress Site to Google Search Console
First, you need to visit the Google Search Console website and click on the 'Start Now' button.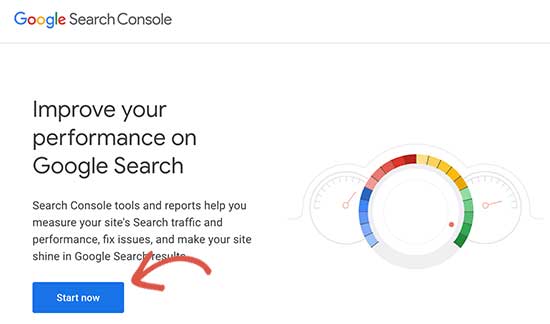 Next, you'll need to sign in with your Google / Gmail account.
Once logged in, you'll be asked to enter your website URL.
There are two methods for site verification: domain name or URL prefix. We recommend the URL prefix method because it is more flexible.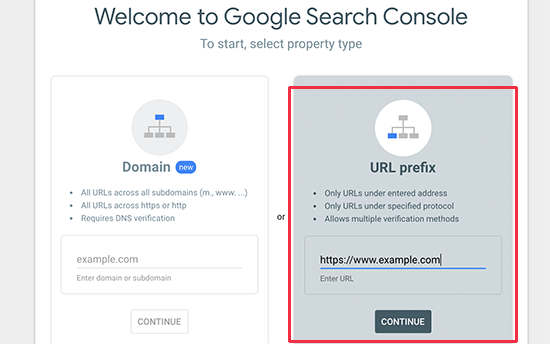 Keep in mind that Google considers an HTTP and HTTPS as two different protocols. It also considers https://www.example.com and https://example.com as two different websites.
You need to enter the correct website URL used by WordPress.
If you are unsure, then there is an easy way to find out the exact URL you need to enter. Simply login to your WordPress admin area and go to Settings » General page.
There you will see your website's URL in the site address field.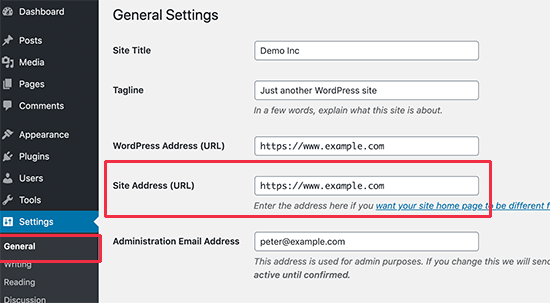 After entering your correct website address in Google webmaster tools setup wizard, click on the 'Continue' button to go to the next step.
Now, you'll be asked to verify ownership of your website. There are several ways to do that, but we will show the HTML tag method because it is the easiest one.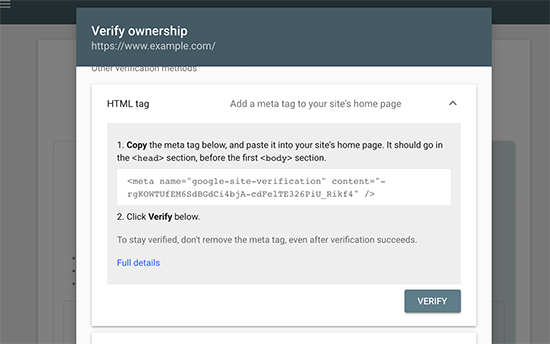 Click on the HTML tag to expand it and then copy the code inside it.
Now, you need to add this Google site verification meta tag in WordPress, so Google can verify that you are the owner of the website.
First, you need to install and activate the Insert Headers and Footers plugin.
Upon activation, go to Settings » Insert Headers and Footers page and paste the Google HTML tag code you copied earlier inside the 'Scripts in Header' box.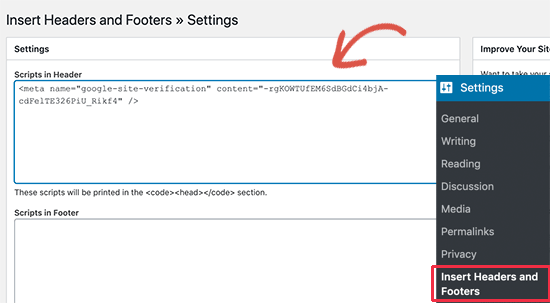 Don't forget to click on the 'Save' button to store your changes.
You can now go back to Google Search Console settings and click on the 'Verify' button.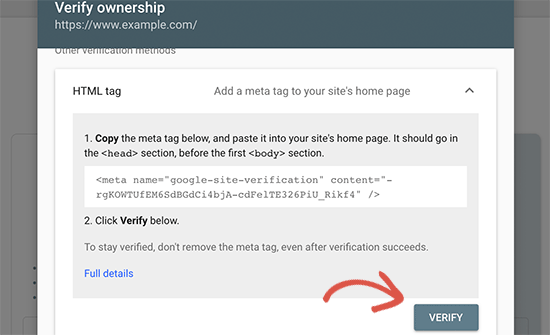 Google Search Console will now look for the HTML tag in your website code and will show you a success message.
Note: If you don't see a success message, then you need to clear your WordPress cache. This will ensure that Google can fetch the latest version of your website.
That's all. You have successfully added your site to the Google Search Console (Webmaster tools). You can now click on the 'Go to Property' link to visit your Google Search Console dashboard.
From here you can see your website's performance reports and index coverage.
Before you do that, let's tell Google a little bit more about your website. This will help Google crawl your website a bit more efficiently.
Managing owners, users, and permissions
How to Add a User to Google Search Console
Step 1: Navigate to search.google.com and log in.
Step 2: Select the correct property from the "search property" drop down.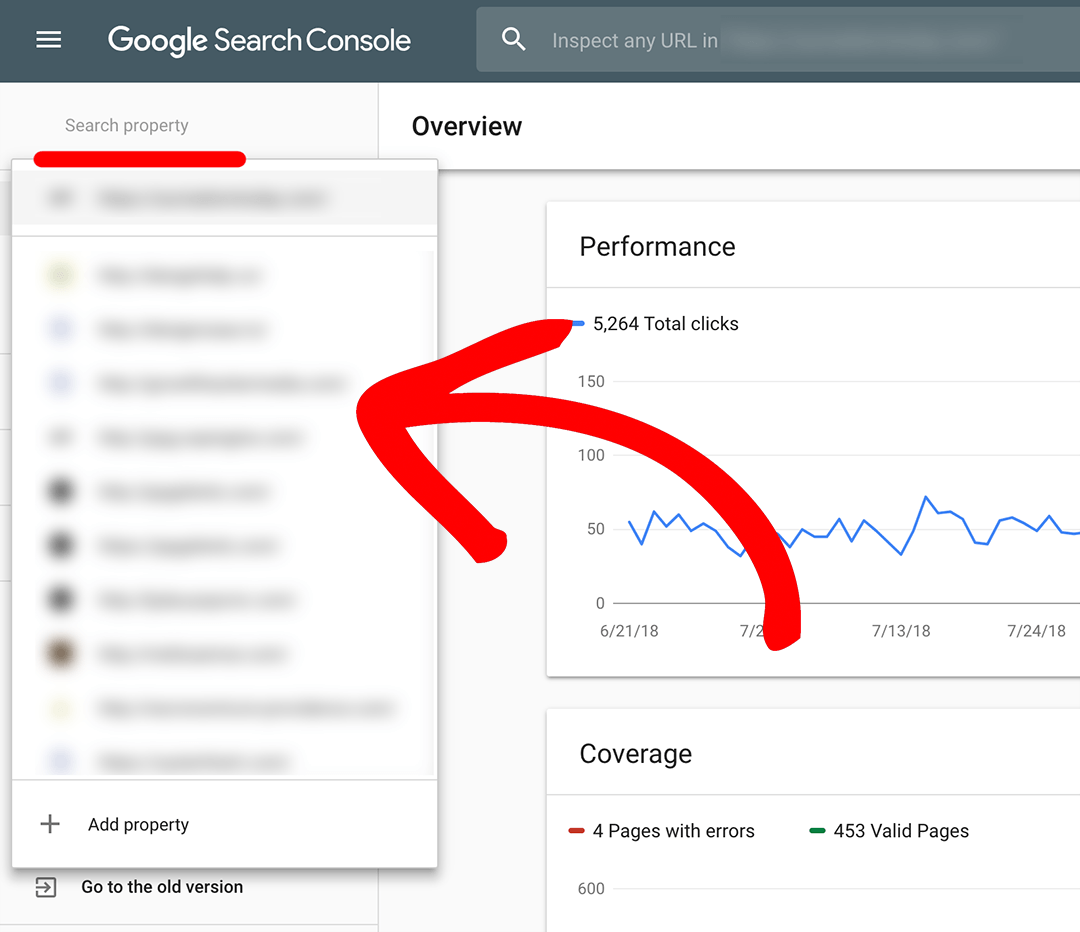 Please note that Search Console is sensitive to matching the domain exactly. This is particularly true when connecting it with Google Analytics. If your settings in Google Analytics are for the domain https://www.yoursite.com/ then you'll need to include both the https and the www in the search console property you share with us. Mismatching domains account for the vast majority of errors.
Step 3: Next, select the settings of your web property.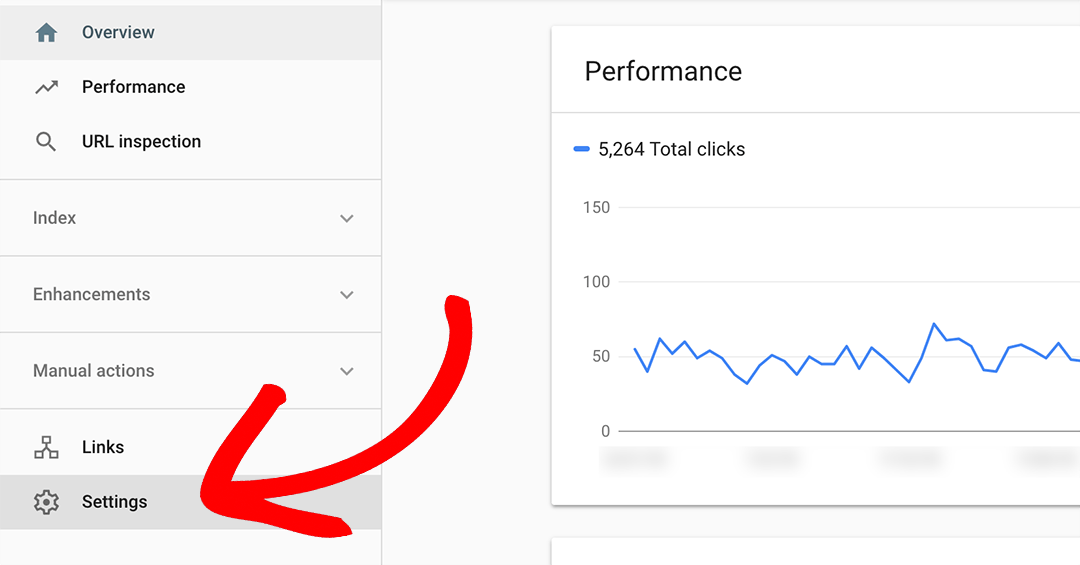 Step 4: Under settings select users and permissions.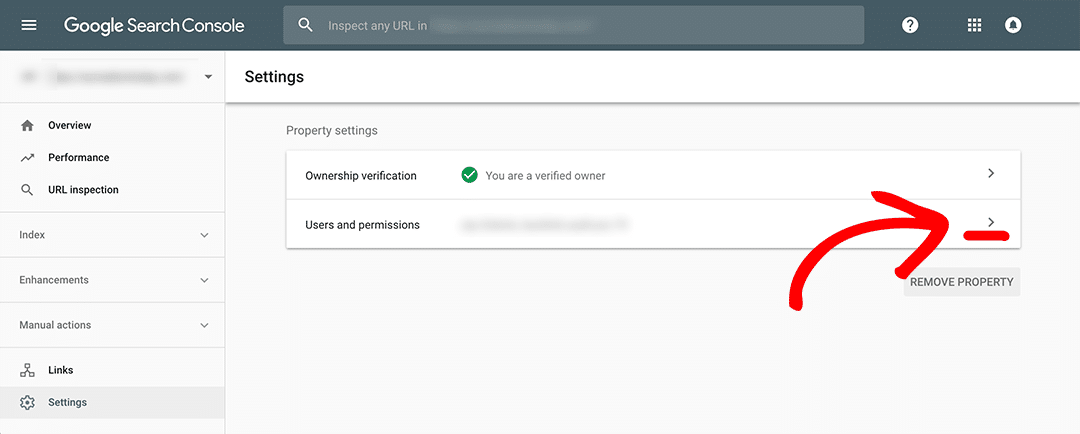 Step 5: In the Users and permissions settings select Add User.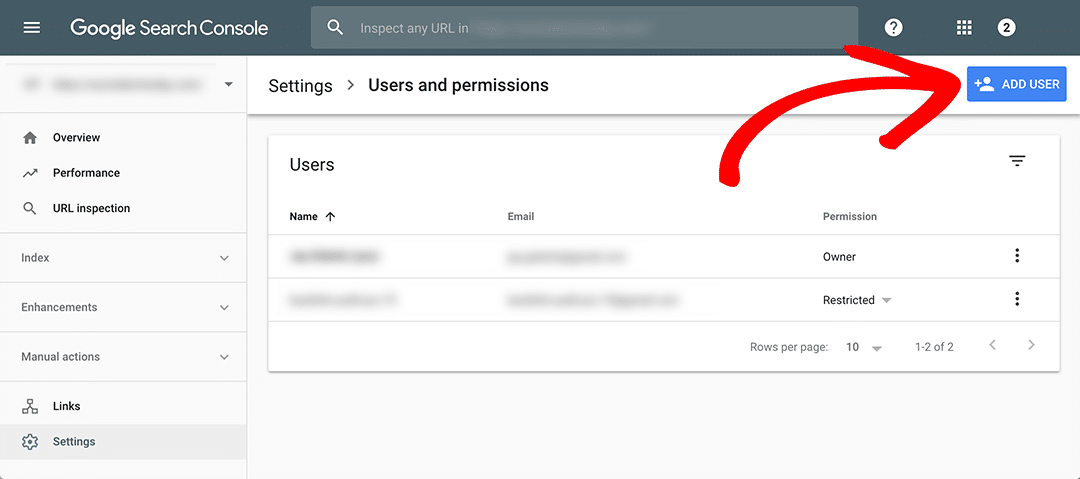 Step 6: Finally, on the Add user screen add the user's email to your account, and click add.
That's it! Now you know how to add a user to Google Search Console